Why Choose a Lestari Bali Wedding
If you're looking for a Bali wedding planner, you've come to the right place. We at Lestari Bali Wedding, are one of the longest established, most trusted and award-winning companies. Since setting up in 2004, we have gained invaluable experience and forged fruitful partnerships with venues and wedding supply partners. As a result, you can leave all aspects of your happy day with us. We pride ourselves in our personal touch, so your wish is our command!
Trusted, Award-Winning Bali Wedding Planner
Lestari Bali Wedding is registered with the Bali Wedding Association (Member No: 022/BWA/WO/160217). We comply with all government regulations and enjoy the reputation as being among the most trusted Bali wedding planners.
Our personalized, top-quality service has won us several international awards, among them; the Conrad Bali Resort as Best Inbound Wedding Planner (2004 – 2014) and the Bvlgari Resort, Bali as Best Supporting Wedding Planner (2014).
The Lestari Bali Wedding Personal Touch
In close cooperation with our wedding supply partners, we can deliver on all aspects of your big day, including venue, decorations, photography, video, civil ceremony, catering, and all other items that will make your day special.
After you get in touch with us, our team will give you ample time to share your vision. We'll discuss every detail of your dream wedding to ensure you get what you've always wished for.

Testimony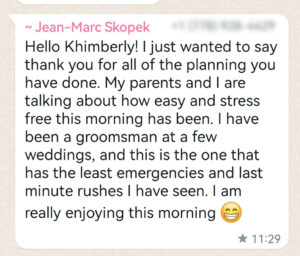 Hello Khimberly! I just wanted to say thank you for all of the planning you have done. My parents and I are talking about how easy and stress free this morning has been. I have been a groomsman at a few weddings, and this is the one that has the least emergencies and last minute rushes I have seen. I am really enjoying this morning 😁
From: Jean- Marc ~ Canada
---
~ Translated ~
Thanks, too Khim. Everyone praised Bali Lestari Weddings and said Khimberly was amazing

From: Cen ~ Indonesia